Christopher Steiner, 22 Stinson Beach, CA Oct. 2013

Elaine's Desktop Publishing
18961 Nugget Way
Plymouth, CA 95669
209.680.9033
---
---
---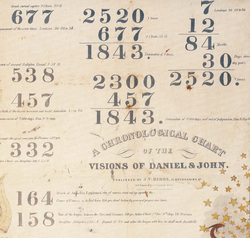 Habakkuk 2:1 I will stand upon my watch, and set me upon the tower, and will watch to see what he will say unto me, and what I shall answer when I am reproved. 2 And the LORD answered me, and said, Write the vision, and make it plain upon tables, that he may run that readeth it. 3 For the vision isyet for an appointed time, but at the end it shall speak, and not lie: though it tarry, wait for it; because it will surely come, it will not tarry. 4 Behold, his soul which is lifted up is not upright in him: but the just shall live by his faith. tower: Heb. fenced place
As early as 1842 the direction given in this prophecy to "write the vision, and make it plain upon tables, that he may run that readeth it," had suggested to Charles Fitch the preparation of a prophetic chart to illustrate the visions of Daniel and the Revelation.
The publication of this chart was regarded as a fulfillment of the command given by Habakkuk.
No one, however, then noticed than an apparent delay in the accomplishment of the vision--a tarrying time--is presented in the same prophecy. After the disappointment, this scripture appeared very significant: "The vision is yet for an appointed time, but at the end it shall speak, and not lie: though it tarry, wait for it; because it will surely come, it will not tarry. . . . The just shall live by his
faith."
{GC 392.2}
Print Chart
Click here for more info
---