Jessica Steiner, 20 at the Cliff House, San Francisco, CA August, 2013






GET AND KEEP YOUR UNIT MEMBERS ENGAGED

With the multiple modes of communication these days, are you challenged to reach your unit members?

A private Facebook group page for your unit is

FREE!

Don't we all need a little something FREE once in a while? .... and

if you're a client of mine with at least $50 in monthly services, you'll receive up to 3 courtesy postings each month!

Embrace Your Dreams monthly post card (thru June 2017) - designed by Elaine's Desktop Publishing
Colorful Month End Alert featuring important deadlines for ordering and company contests/promotions - designed by Elaine's Desktop Publishing
Misc posting: holiday tips, seasonal selling ideas, videos, company promotions etc (will vary)

If you're a client of mine with a minimum of $100 in monthly services, you'll receive up to 6 courtesy postings per month

Monthly Newsletter

Unit Monthly Contests
Unit Events and Promotions

Mailchimp clients will always have their Weekly "What's Happening" email posted to their Facebook private group page

Need something special created? You provide the verbage, I'll design the flyer or postcard - I'll put together graphics to highlight your content - design cost: just $15 - and posted to your facebook FREE - or provide you with an image for you to post.

Have a file you need made into a graphic and posted? Email the file and I'll send you the image - or post it for you for a small fee - (this service available to current clients n/c up to 3 per month)

---



Unit Newsletters

I have to admit, after 24 years newsletters are still my favorite! It's where I began - with a dinasour computer, not even knowing how to turn it on.
With the use of multiple software programs and powerful design tools, I have created many different formats to meet the needs of any size unit.

Newsletters are kept on schedule which begins the last day of the month and completing all drafts around the 22nd of the month. Revisions are always turned around within 24 hours with the exception of the weekend. Recognition is pulled from your intouch and any personal unit recognition is added as supplied by the director. Some things are still done the old fashioned way to maintain more individuality and keep the formats and designs with more flexibility - your newsletter is not finished until you are happy with it.


Cost: $40 monthly, never a set up fee
Newsletters include from 8-12 pages, contest pages can be supplied by you or if you need a contest page designed, it will be included in the cost - you supply the text as you want it to read and I'll do the rest!


All clients receive monthly via email a colorful month end alert to forward out to consultants - see sample below. This is sent out around the 24th of each month.





Customer Newsletter

For just $5.00 each month you can your a personalize Customer Newsletter - Great for consultants to!
Current clients billed monthly
Enrollment for Customer Newsletter only is billed twice yearly: $30 every 6 months
---
Sample Newsletters
---
All clients receive monthly via email a colorful month end alert to forward out to consultants - see sample below. This is sent out around the 24th of each month.
Month End Alert Sample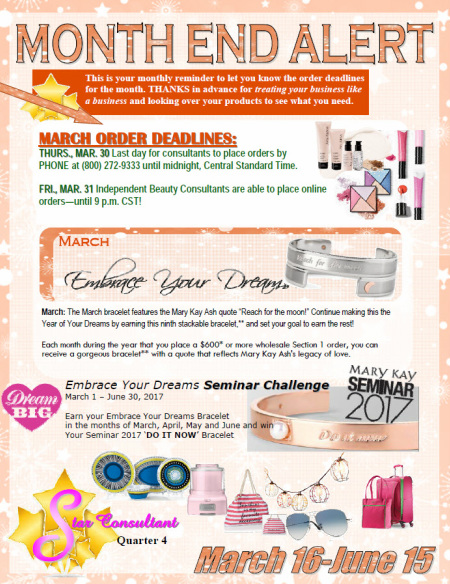 ---
---
Joshua 1:9 Have not I commanded thee? Be strong and of a good courage; be not afraid, neither be thou dismayed: for the LORD thy God is with thee whithersoever thou goest.


---